Ana María Ampuero
[Pastora, Magíster en Teología y Magíster en Banca de Desarrollo]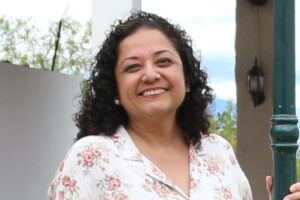 Es Directora de DAI en Ecuador. Participa como facilitadora de los cursos no formales de DAI en Ecuador y en otros países. Es docente en la Maestría de Desarrollo Organizacional de DAI.  Se ha capacitado con DAI en uso de tecnologías de educación en línea y con la Universidad Evangélica de las Américas en Costa Rica-DAI en Metodologías de Educación en línea.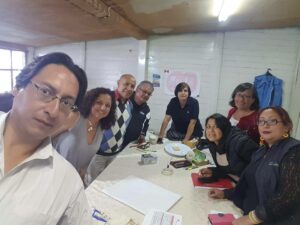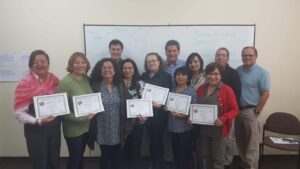 Su formación académica formal es la siguiente:
Programa de Alta Gerencia. INCAE. Alajuela, Costa Rica, 2000; Master of Arts y Diploma en Christian Studies. Regent College, Vancouver, B.C. Canada, 1989-1993;Master of Arts en Banca de Desarrollo (Economía). The American University, Washington D.C., 1983-1984;Bachelor of Arts en Sociología. The American University, Washington D.C., 1980-1982.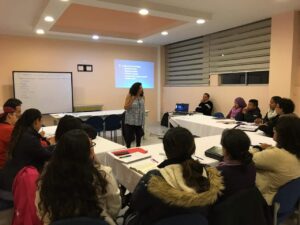 Fue pastora de la Iglesia Evangélica de Iñaquito desde el 2006 hasta fines del 2021 cuando se jubiló para dedicarse a DAI. Fue Directora del Seminario Bíblico de la misma iglesia en el período 1994-1999. Ha ocupado cargos directivos en organizaciones internacionales, nacionales, privadas y públicas en su país.. Es coautora del libro Etica para Todos, publicado por Editorial Planeta.
Conoció al Señor desde los 24 años y desde muy temprano se involucró en el servicio al Señor, con jóvenes, mujeres, profesionales, discipulando y enseñando.
Puedes seguir sus estudios bíblicos en su página web Teología para Hoy en Facebook, sus videos de enseñanza en Youtube (como Ana María Ampuero) y en Instagram (como amampuero). También maneja el canal de DAI Ecuador en las redes sociales.
Ana María es viuda,  madre de dos hijos, Pablo y Anita. Pablo vive en Quito con ella. Anita partió a la presencia del Señor en el 2019. Ana María es ciclista, nadadora y ávida lectora.
Para participar en estos cursos por favor escriba al correo de Ana Maria Ampuero al [email protected]